2023 Sunday Men's Club
45th Year
2023 Dates
April 2 – Informational Meeting @ 9am
April 23 – Event #1 – Qualifying Round 1
May 7 – Event #2 Qualifying Round 2
June 4 – Event #3 Match Play – Round 1
June 25 – Event #4 Match Play – Round 2
July 9 – Event #5 Guest Day
July 23 – Event #6 Match Play – Round 3
August 6 – Event #7 Match Play – Round 4
September 17 – Event #8 Match Play – Round 5
October 1 – Event #9 – Final Championship
Important League Information
Green Fee's – $450.00
League Fee's – $100.00

Green Fee's & League Fee's are due by April 21, 2023. Green Fee's are non refundable and expire at the end of the season. Members do not need to pay the Green Fee's but must pay the league fee's.
League Fee's do not include payment of handicap.
Handicaps must be paid to Golf League Guru through the app prior to play.

New for 2023, Golf League Guru will be a mobile scoring platform for golfers to report their scores live trough the app. They will see the scoreboard for all players, updated handicaps, schedule and more. Golfers only pay a one time fee for all the leagues they may play at Paganica during the season.
Golf League Guru – $8.95 paid through the app.
Available on iOS and Android/Google Play

The Prizes:
The league will be split into 2 divisions that are match play.

Overall Champion Prizes:
2 – Srixon Golf Bags embroidered.
2 – $500.00 Gift cards
Toad & Shooz Division Winner Prizes:
2 – Paganica Den Cadies
2 – $250.00 Paganica Gift Cards

Consolation Prize:
2 – $200.00 Paganica Gift Card
Weekly Hole events:
$15 Paganica Gift per hole event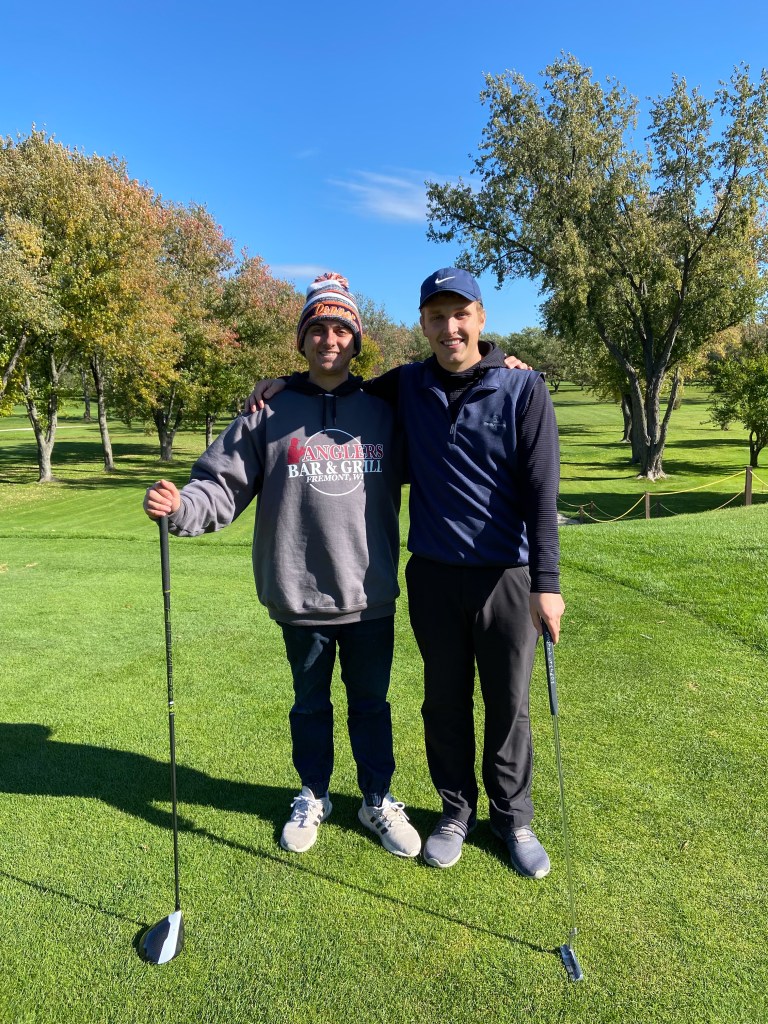 2022 Men's Club Champions
Congratulations to Dallas Hill & Shane McGuire against Mike Schutte & Dorien Ah Sam. Winning their match by Hole 15 at Paganica Golf Course on Saturday October 15,2022.
Champions
2022
Dallas Hill
Shane McGuire
2021
Tom Stapleton
Pat Walker
2020
Steve Frami
Kent Kumlien
2019
Steve Frami
Kent Kumlien
2018
Ryan Propp
Kurt Schuster
2017
George Faherty
Doug Carlson
2016
Dick Baird
Mike Inkmann
2015
Dick Baird
Mike Inkmann
2014
Rob Davy
Bryan Drays
2013
Todd Schaefgen
Mark Schimmelpfennig
2012
Tim Gossett
Jeff Steffek
2011
Kevin Brown
Randy Grimm
2010
Don Lemke
Kurt Schuster
2009
Scott Froeming
Todd Schaefgen
2008
Shawn Stark
Johnny Schultz
2007
Chet Walker
Tom Stapleton
2006
Jeff Berger
Jason Tryba
2005
Dave Henning
Jim Kleinschmidt
2004
Rick Fortmann
Bill Hoffart
2003
Tim Gossett
Bill Gossett
2002
Bob Anderson
Jason Brown
2001
Don Austin
Glenn Hudson
2000
Don Lemke
Kurt Schuster
1999
Bob Anderson
Jason Brown
1998
Dan Delker
Tim Gossett
1997
Doug Carlson
Dan Footland
1996
Dick Paul
Kyle Paul
1995
Ken Ruesink
George Faherty
1994
Kyle Paul
Rick Fortmann
1993
Dick Hartwell
Tom Evans
1992
Tom Evan
Dick Hartwell
1991
Don Mabry
Glenn Hudson
1990
Roger Stark
Ken Pollack
1989
Jeff Berger
Jim Miles
1988
Doug Carlson
Gary Rynders
1987
Todd Trausenecker
Mark Schimmelpfennig
1986
Roger Stark
Ed Holub
1985
Harvey Eppers
1984
Harvey Eppers
1983
Buck Harris
1982
Steve Roush
1981
Darryl Kaufman
1980
Darv Winger
1979
Darv Winger
1978
Bill Demlow